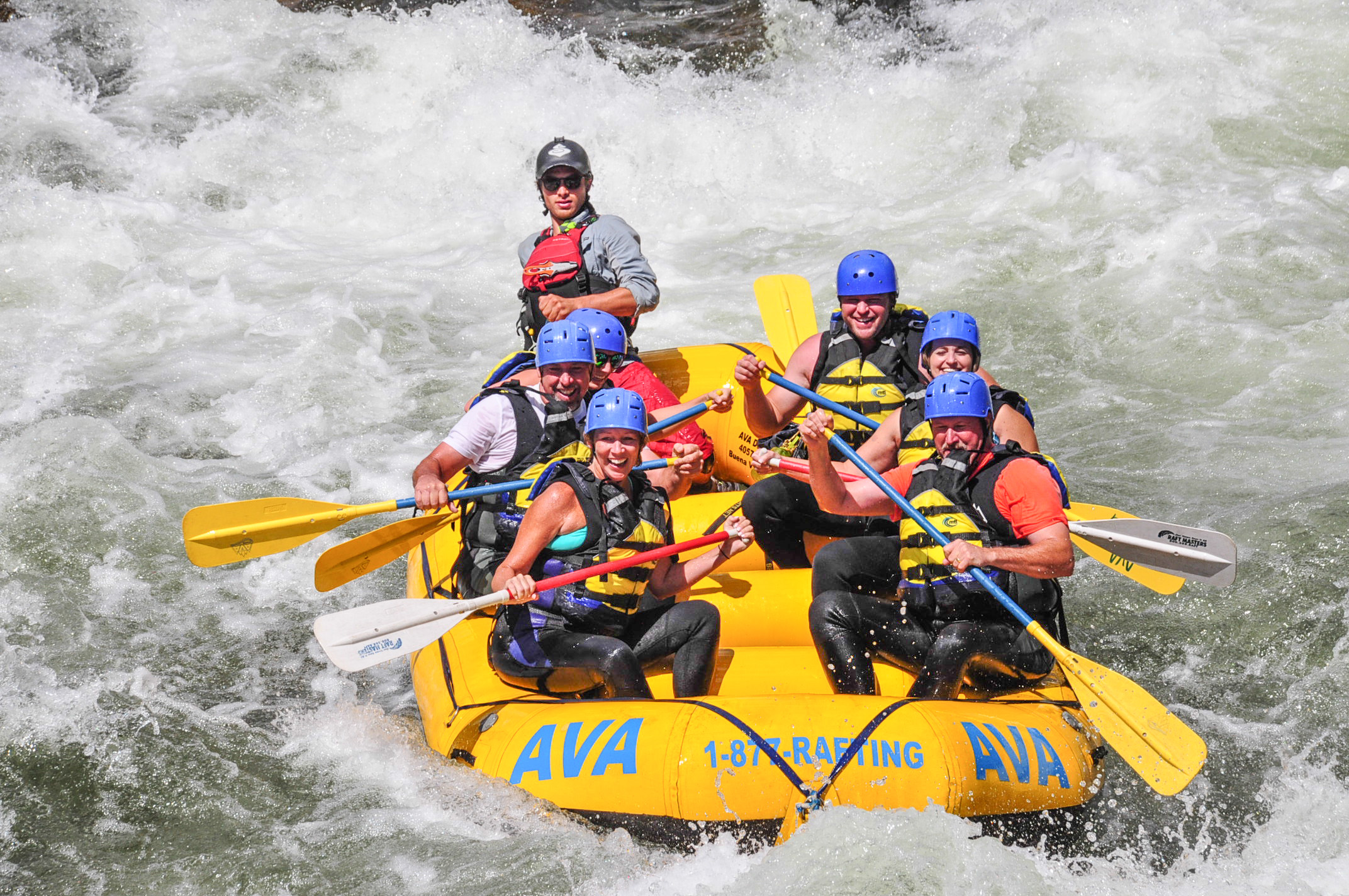 Wondering how to choose the right Colorado whitewater rafting trip? We know the choices can be overwhelming, which is why we're doing a series of blog posts to help you figure it out! We want to start with explaining how our whitewater rafting trips are rated. If you do much research on rafting trips, you'll find that almost all rafting trips in Colorado are rated from Class I to Class VI. What does that mean? The Scale of River Difficulty was created and that's the scale we use at AVA too. Here's an abridged version of that scale:
Class I: This is generally what we call "flat water," moving water with riffles, small waves and few obstructions. We recommend: The Colorado River Scenic Float.
Class II: Novice. Straightforward rapids with wide, clear channels which are evident without scouting. Occasional maneuvering may be required, but rocks and medium-sized waves are easily missed by trained paddlers. Many of our Class III trips also have some Class II water in between the rapids. We recommend: –Our Colorado River Scenic Float. The Brown's Canyon rafting trips or the Clear Creek Beginner trip also have some Class II water in between the rapids.
Class III: Beginner-Intermediate. These are what we often call our family whitewater trips. They're fun for both beginner and experienced rafters and generally have a minimum age of 6-7 years and minimum 50 lbs. Rapids with moderate, irregular waves. Complex maneuvers in fast current and good boat control in tight passages or around ledges are often required; large waves or strainers may be present but are easily avoided. We recommend: Classic intermediate trips like Brown's Canyon full day trip, the 24 Hours in Brown's Canyon Overnight Trip, the Clear Creek Beginner, or the Blue River.
Class IV: Advanced. Intense, powerful but predictable rapids requiring precise boat handling in turbulent water. Depending on the character of the river, it may feature large, unavoidable waves and holes or constricted passages demanding fast maneuvers under pressure. The rapids on these trips tend to be both more continuous and larger than on Class III trips.  These trips are appropriate for first-time rafters that are in very good physical shape and are strong swimmers. We recommend: The Numbers rafting full day or half day, the Clear Creek Intermediate Rafting Trip or the Royal Gorge.
Class V: Advanced Plus. The most advanced level of commercial rafting. Drops may contain large, unavoidable waves and holes or steep, congested chutes with complex, demanding routes. Rapids may continue for long distances between pools, demanding a high level of fitness. Swims are dangerous, and rescue is often difficult even for experts. While we prefer that you have rafting experience when you go on a Class V trip, our trips that include Class V rapids can be appropriate for first-time rafters in excellent physical condition with very strong swimming skills and an understanding that you are entering into a first-class serious adventure! We recommend: The Gauntlet trip, which includes the Pine Creek rafting trip and The Numbers rafting in one trip, the Clear Creek Advanced, or the ultimate Class V: our Gore Canyon rafting trip.
Class VI: Although attempted by private boaters, these rapids are not run on commercial raft trips! TOO EXTREME!
Give us a call at 800-370-0581 and we'll narrow down all of the choices to find the perfect trip for you!