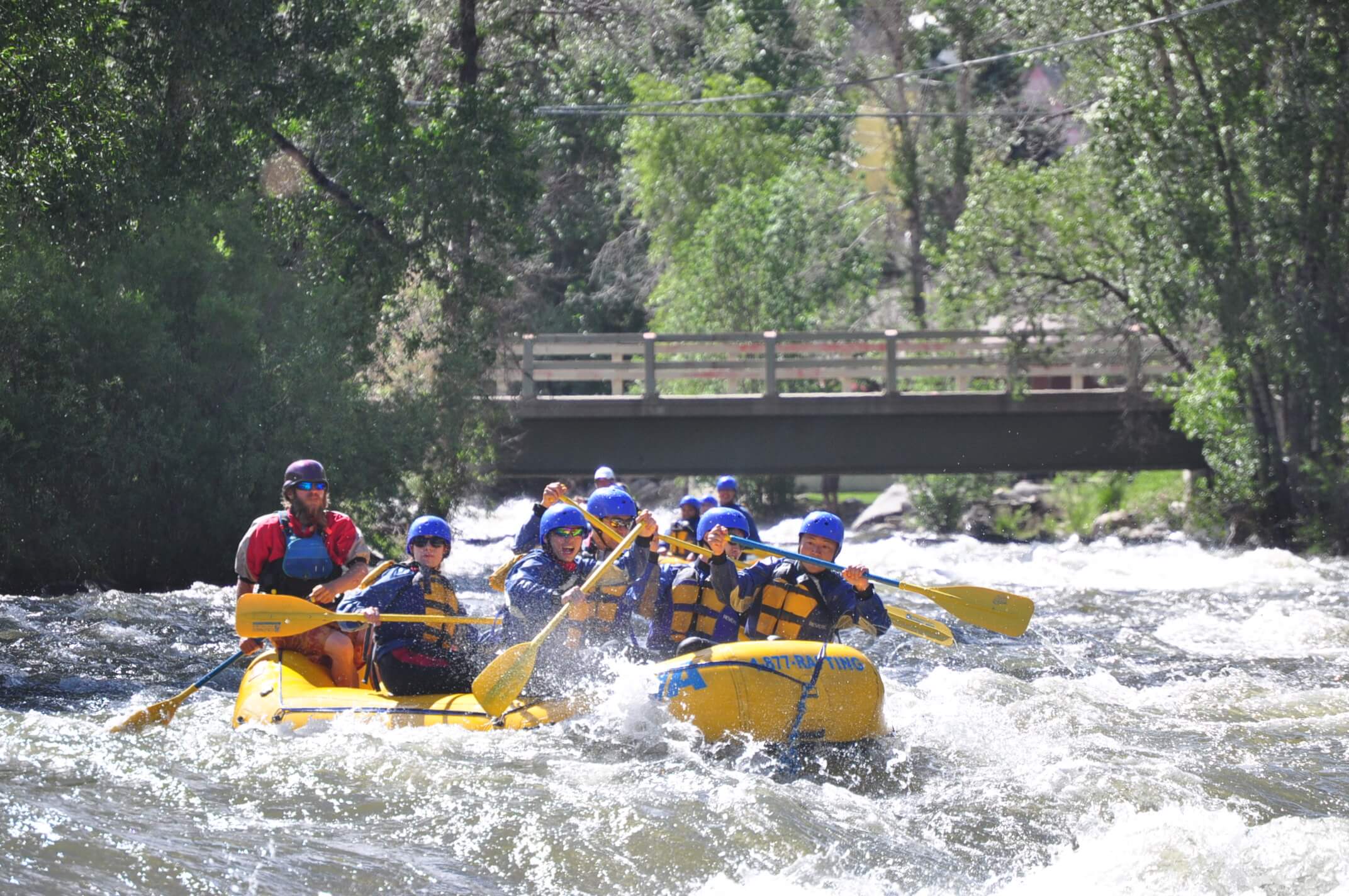 If you are looking to get more in tune with your outdoor enthusiast side, be sure to get out on the river in the next few weeks.  The water is sitting at a great level in Colorado right now, so you definitely don't want to miss out.  However, how do you know when to take on an adventure and what adventure to take on?  No worries, we're here to help!  Chose a wet and wild excursion on the water or fly high among the mountain vistas on our aerial adventure courses… there's something for everyone with AVA Rafting & Zipline.
Explore the Colorado River
Whitewater Rafting
Thinking whitewater rapids is a perfect activity to do your mountain excursions, but your little ones might be too young? Don't worry, the Colorado River is a family friendly float to get all generations out on the water.  AVA's outpost is located in Kremmling, Colorado, just an hour from Summit County.  The 5-mile float down the Colorado River yields incredible views of cliffs and even a jump rock for those daring enough the take the plunge.  Accommodating to all different ages, the size of rocks ranges from adult-sized to children-sized boulder leaps, so you can feel assured for the safety of your little ones.
Fly Fishing
From Largemouth Bass, to Rainbow Trout and Striped Bass, the Colorado River has the right catch for you.  There are plenty of great spots to toss a line in the water, and if you are gear-less when it comes to your angling stash, AVA Rafting & Zipline has guided fly fishing tours on the river.  All you'll need to bring is a fishing license and a sense of adventure.
Venture Along Clear Creek
Clear Creek is conveniently located just 30 minutes west of the Denver area and with all levels of whitewater rafting, multiple aerial excursions, and some great spots to grab a beverage after your adventure, it should be on your to-do list this summer. Clear Creek's Gold Rush stretch is good for families with kids, and you'll get to see some of the incredible mining history in the area.  On the other hand, hit the Lower Canyon's Class V rapids to challenge your crew and navigate your way through the intense whitewater.
The Almighty Ark
For a true Colorado adventure, head to AVA's Buena Vista outpost and paddle through all levels of rapids on the famous Arkansas River.  Browns Canyon, named a National Monument by former President Barack Obama, is the Class III stretch of river in Buena Vista.  There are also Class IV and Class V stretches to keep you on your toes.
Last But Not Least… the Blue River!
The Blue River is currently running at a solid CFS, and if you didn't already know, the season on the Blue is fairly short each year.  Jump on a trip while you can and enjoy views of the incredible mountain vistas surrounding the notorious Summit County, Colorado.
Need a visual?  Check out our latest YouTube video.