Kobayashi in a hotdog eating contest, Michael Jordan in the Finals, the Ruth/Gehrig Yankees in the 1920's, Tom Brady in the Super Bowl, and Colorado in the Summer; what do all of these things have in common? They're damn near unbeatable.
If we were playing a word association game and someone presented you with the word "Colorado" many might respond with "Snow". While Colorado is absolutely one of the coolest places in the world during the winter, the same goes for the summer here.
Picturesque mountain towns, stunning winding rivers, incredible landscapes, perfect temperatures, sunshine, and more sunshine. Whether you are looking for an adrenaline pumping adventure rafting the rivers or rock climbing, or a scenic float soaking in landscapes and wildlife; Colorado summer's truly have something for everyone.
With all of these options to pick from when planning your summer activities in Colorado it can be a bit daunting picking which one you most want to do. Well stress-not, I'm going to go ahead and break down (in no particular order) some of Coloradan's favorite things to do in the summer!
The beauty about rafting in Colorado is that there is something to meet everyone's desired thrill level. Whether you're looking for a laid back scenic trip, or intense white knuckled fun through high adrenaline fueling rapids. Whether you're looking for your rafting trip to be a couple of hours, or an overnight trip. There are really options to fulfill whatever you may be looking for.
There are few things better than bonding with friends while paddling your way through different sections of a river, each section throwing new challenges and fun your way. The best way to raft in Colorado for most is through an established rafting company. When rafting with a company you will be provided with all the necessary gear, a veteran guide, and all the knowledge you will need to ensure a safe and fun trip.
You've heard of ziplining before. You've either seen or participated in one before most likely. Well there's a good chance you haven't seen one like some of the ones in Colorado. Forget the common zipping form wooden platform to wooden platform. Zipline adventures in Colorado like AVA Rafting and Zipline's courses in Idaho Springs and Buena Vista are built directly into the natural landscapes.
These courses will not only have you zipping through incredible natural cliff-faces but also throw in some extra features like suspended bridges, surf-zips, suspended free-falls and so much more.
Ziplining is a great way to get the blood pumping and spend some time out in the mountains. It is the perfect activity that never disappoints for both children and adults.
Okay, so I understand there is a good chance you may not recognize this one but that's because this activity is kind of new to Colorado. Having said that, this activity might just be one of the best!
Via Ferrata: A mountain route equipped with fixed ladders, cables, and bridges in order to be accessible to climbers and walkers. 
The best way to explain this one is to simply show you…
A Via Ferrata is the perfect excursion for those looking to get out on a cliffside in a safe yet truly exciting way. You are safely clipped into cables throughout the entirety of these adventures while you traverse iron footholds/handles, 70-foot rappels, assisted free falls, and several different ziplines as you navigate your way around the course. AVA has some of the most incredible Via Ferrata courses in the state located in Idaho Springs and Buena Vista.
Explore Colorado backcountry on an custom Polaris RZR off road vehicle! AVA allows you to rent one of these incredibly fun vehicles in Kremmling, CO where you can then take off and explore more than 20,00 acres of beautiful trails. You can take in spectacular views of the Gore Canyon and mountains all while testing your off-roading skills!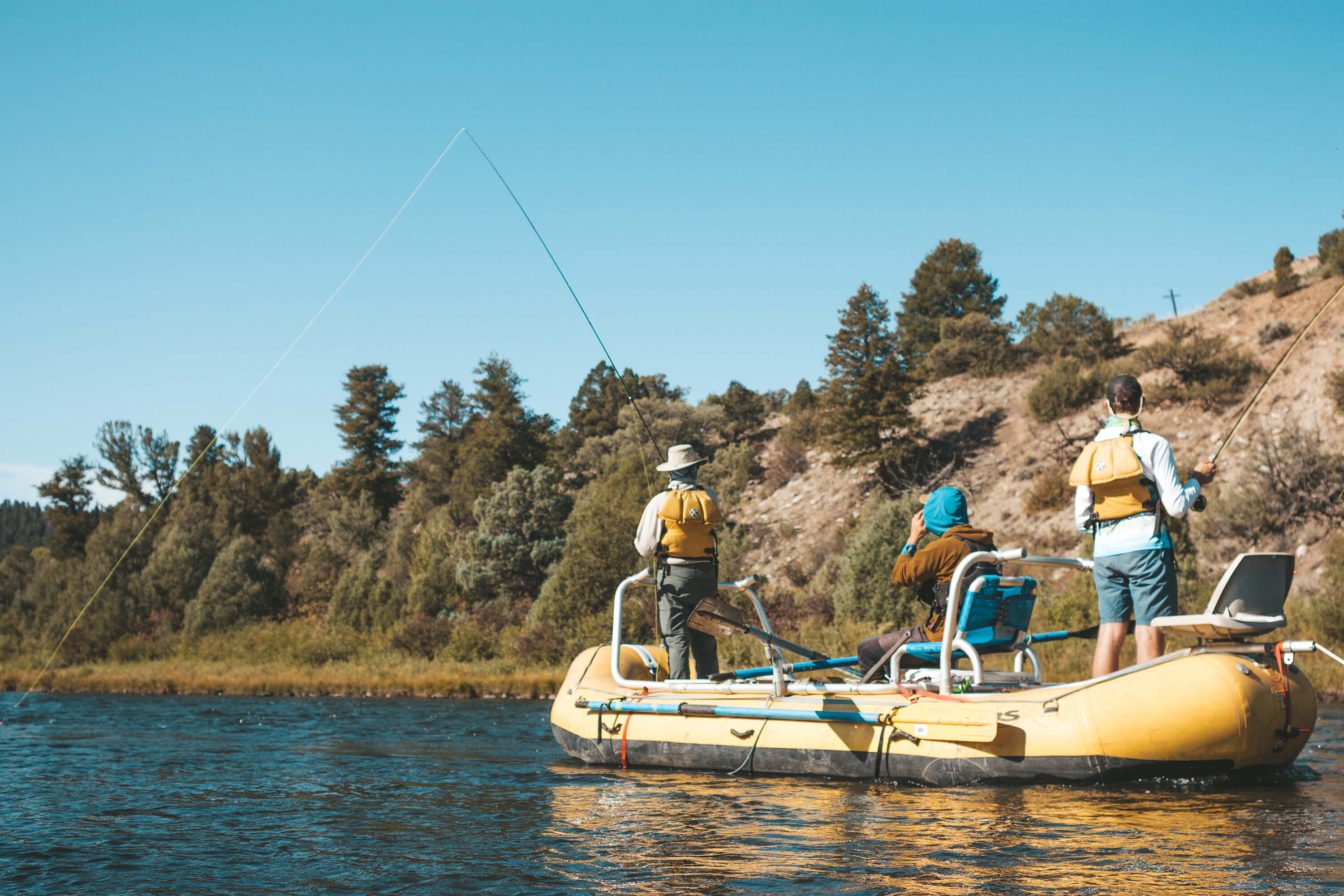 Spend some time in nature while casting flies on the beautiful Colorado River. Whether you are a seasoned angler or are a first timer, there is a perfect fishing trip for you. AVA offers guided fishing trips off all kinds that will provide you with the gear, and knowledge that will set up for a memorable day out there in pursuit of fish.
Our guides will fill you in on information about the natural environment of the river, casting techniques, what fish you're looking for and which flies to use. Whether you're looking for a 4 hour float down the Colorado River, or a 2 hour walk and wade; a fly fishing trip in Colorado is likely to either reignite your love for the sport or have you walking away with a new favorite hobby.
Colorado is home to some of the best hiking in the world, so of course it's something to try while you're in the state! You can find incredible hiking trails pretty much no matter where you are in the Rockies. Use sites like https://www.alltrails.com to find trails nearby you and to learn about their difficulty, current conditions, and so much more.
Another great way to go about hiking in Colorado is to take advantage of a guided hike experience. A guided hike will pair you and your group with a experienced guide that is ready to educate you on all the local landscapes and environments, provide you with and transport all the camping gear/food you'll need, and keep you safe out there. There are day hikes, 1 night, or even three day trips in Rocky Mountain National Park trips available that you and your group will treasure forever.
We already know The Rocky Mountains are a breathtaking site, now imagine seeing them from the vantage point of a hot air balloon! A hot air balloon trip offers an unique experience.
AVA's balloon trip starts you off meeting in the morning at your ride location where you will enjoy coffee, tea, and morning snacks while you prepare for your flight and watch the balloon being inflated. Then its lift off time! You'll ascend several thousand feet above the ground and travel anywhere form 2-10 miles over beautiful scenery (sometimes your pilot may even give you the chance to man the controls of the balloon for a moment)! Once you land its time to celebrate the epic morning with a sit-down breakfast and mimosas, champagne, or sparkling cider.
Time to turn 'someday' into 'today'
These are only some of the wonderful activities to keep you busy during your time in Colorado. There is no better time than the present to make memories.