Colorado is known for its snowy winters and great skiing but no one talks about how hot it can get. The average summer temperature in the Front Range is 92° F! Many Coloradans flock to the mountains to get away from the brutal summer heat. Here are our top 4 favorite ways to get away from the Colorado summer heat and cool down!
1. Whitewater Rafting
Many of the rivers in Colorado get their water from snowmelt, making the water pretty chilly. You will get wet on a rafting trip and nothing feels better than the crisp river water splashing your face on a hot summer day! Rafting is a great way to see some of Colorado's spectacular scenery without breaking a sweat. 
Our Browns Canyon rafting trip is one of the most scenic trips you can do. Be prepared for amazing views of the collection of 14,00-ft peaks called the Collegiate Peaks. Eagles live in the area, so you have a pretty good chance of seeing one. Our Browns Canyon rafting trip is a great way to cool off for all ages and abilities!
2. Ziplining
Feel the cool mountain air fly through your hair while zipping through Colorado's majestic mountains. The mountains are typically 10° cooler than the front range making it a perfect escape only an hour or so from Denver. Our Cliffside Zipline in Idaho Springs and our Mountain Zipline in Buena Vista will surely give you the thrill and chill you're looking for this summer.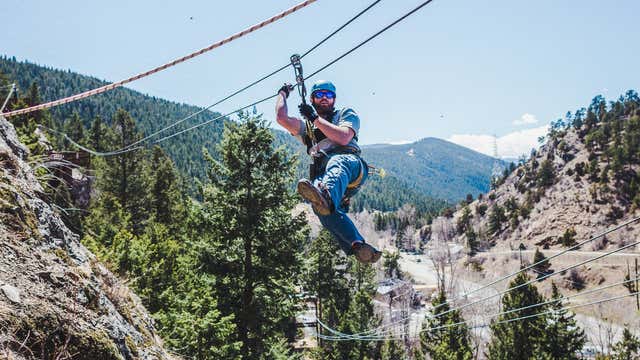 3. Fly Fishing
What better way to beat the heat than fully immersing yourself in Colorado's rivers? Our fly fishing trips out of Kremmling, Colorado are a perfect summer activity to do on a scorching day. Walking through the brisk water of the Colorado River is a relaxing yet satisfying way to spend a morning or afternoon. Our experienced guides will ensure you have the best time possible all while staying cool.
Our Walk & Wade fly fishing trip is ideal for beginners and experts alike. Your guide will tailor the trip to your ability so you get the most out of it. Come spend a couple of hours with us and try your luck at catching a Colorado trout by clicking here. 
4. Off-Roading
If you and your group are looking to get a little dusty, our UTV off-road adventure is for you! Whip around on 20,000 acres of marvelous mountain land while the cool air blows through your hair. Keep your eyes peeled for local wildlife like antelope, mule deer, elk, coyotes, bighorn sheep, and eagles! 
Our custom UTV's are outfitted for the most comfortable ride on the backcountry roads. Each vehicle seats four people making it easy to include everyone in the family. Children must be 5-ft tall to ride in the UTV.