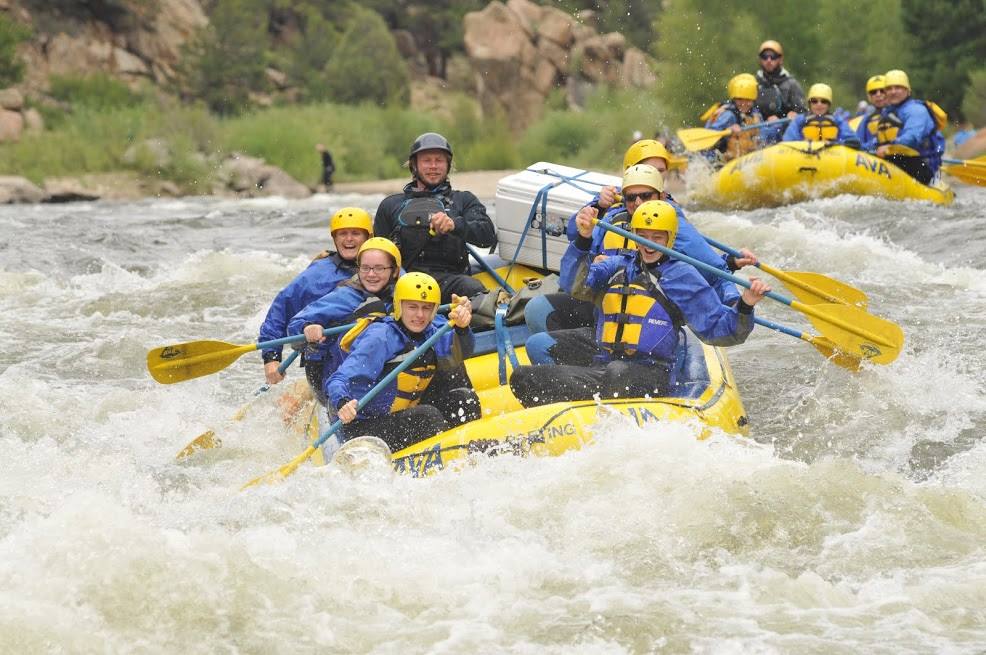 Imagine floating down a whitewater river with your family and friends on a raft under a typical Colorado blue bird sky. You will experience moments of pure adrenaline, serenity, and bonding with those on your raft. A whitewater rafting trip will leave you with an unforgettable connection with nature and appreciation for the power of Mother Nature. Laugh and learn under the instruction of highly experienced AVA raft guides. Your rush does not stop there as you take on our mountain top or cliffside zipline adventures. So, strap into a harness, and experience a true birds eye view as you fly through the air while taking in 360 views of the Rocky Mountains and surrounding rivers!
Bring your sense of adventure and capture an epic selfie on a rock climbing trip. Experience the beauty and incredible views of San Isabel National Forest while navigating natural rock features. Now that you're tuckered out, enjoy a night under the vast mountain sky and add to the adventure by booking our cozy family friendly cabins or campsites. Take it all in as you are surrounded by fresh air with nature as your backdrop. Our on-location cabins will only help you save on lodging and commuting, and you'll get an incredible outdoor experience! Now that your ready to expand your horizons, it's time to check out the killer deals AVA has to offer:
BLACK FRIDAY/CYBER MONDAY DEALS
Book with AVA and buy one get one half off (BOGO) on Black Friday or 20% off for online booking at our website on Cyber Monday for any 2016 raft/zip package at our Granite location.
GROUP DISCOUNTS
Bachelor Party? Girls day out? Family reunion? We have what you need with some amazing group discounts! Check out these deals to insure not only a great time but a great price. (No Fridays/Saturday for higher group discount, reg. Group discount applies on these days)
Group of 10-19- 15% off
Group of 20-49-20% off
Group of 50+-30% off
So be a "Group Leader" and be sure to book ASAP to cash in on these deals!
Avoid the pains of Black Friday and call us to book the incredible adventure that awaits you in the new year!