UP..UP.. and away, hot-air balloons just got hotter
The creation of the hot air balloon brought about the start of the aviation Era. Cementing two French brothers in history for opening the way to enormous advancements in the way we travel. The first hot air balloon voyage took the route on September 19, 1783, its first passengers being a sheep, duck, and a rooster. Little did those animals know, those 15 mins in the air would be what revolutionized the way we as humans travel every day. The Hot air balloon was designed by; Joseph-Michel Montgolfier and Jacques-Etienne Montgolfier. Two French brothers who decided to test the limits of gravity.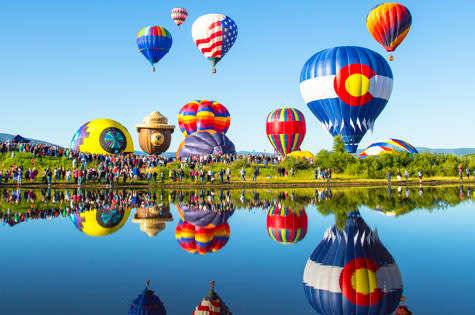 Image courtesy of steamboatchamber.com
The first form of flight or your weekend plans? 
This fall, come on down and join us for our latest high flying adventure over the south park valley. Located in Central Colorado just about 9 – 10,000 feet in elevation, you and your family can touch the sky as you float over some of Colorado's most beautiful sceneries and wildlife; making it a great kick-off to your fall. This 909-acre park established in 1999, is equipped with 8 miles of hiking trails, 7 miles of designated horse and bicycle trails, and parking lot restroom and picnic facilities to accommodate all of your family needs. 
Image courtesy of realworldphysicsproblems.com
This beautiful high-flying adventure begins at sunrise in the Breckenridge area. Meet at the Breckenridge location with your own vehicle or utilize the free Breckenridge transportation if you're staying in town. You are welcomed with hot coffee or a warm drink and snacks, and you get to watch the balloon inflate as you get ready for your ascent.                                                                                                                             
You begin your ascent at treetop level, getting several thousand feet higher above the ground while traveling roughly 2-10 miles down the valley. The view will be one your eyes will hardly be able to take in, but luckily our professional commercial pilots are equipped with the insight of the area, sometimes offering the opportunity to fly the balloon for a few moments – if you're lucky.
Your flight ends with a traditional ballooning ceremony celebrating our incredible morning aerial adventure. Now, being an adventurer is tiresome work, which is why we provide a sit-down breakfast with options of mimosas, champagne, or sparkling cider. This trip is not only gonna spark relaxation, it's the best way to see our beautiful and majestic Colorado.
Image courtesy of stylehiclub.com
What to bring  
You're probably wondering, "how do I get ready for a hot air balloon ride?" or "should I be scared?" well, don't worry; all of our trips are run by our experienced guides. They train specifically on making every experience for you and your family one you will always remember. Now for things you can bring, below is a list of the do's and don'ts for this great AVA adventure. 
Do:
Bring your camera/video cameras
Bring a light jacket & long pants
Wear tennis or hiking shoes
Don't:
Forget your great attitude, or anything else mentioned in the "Do" section
Do not wear shorts, open-toed shoes or sandals, please
AVA prides itself in providing all guests with a great adventure experience; from our sales team that helps you book and plan your trips to the dedicated instructors that make sure each trip is safe, fun, and memorable. Check out the many fall options that we have for this season. Get a little wet on our upper Colorado float trips that take place in good ole Kremmling, home of the Colorado river. Join us for our end-of-the-season float trips, a great way to close the season with a splash. 
Easy access to your last-minute summer fun 
Book me today – Mount evans or Granite Via Ferrata  
Book me today – Upper colorado river rafting trips 
Book me today – Cliffside Zipline