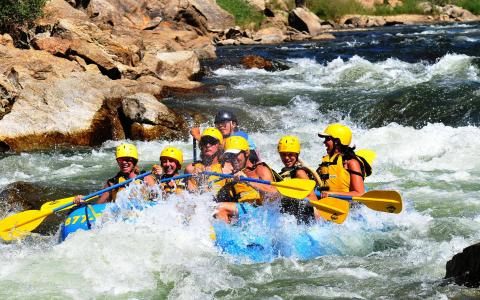 Colorado is home to some incredible whitewater rafting. The variety of rivers and their ability to accommodate everything from an easy-going float trip to a pulse-pounding Class V trip. AVA has rafting trips on eight different rivers across Colorado, so how can you even begin to find the perfect raft trip for you and your group? Well, we're here to help! Read on to find your perfect trip depending on what you are looking for.
Have Kids in Your Group?
By far, the best river for rafting with kids is the Colorado River. With various beginner float trips for those as young as 2 years old, the Colorado River can provide you with a gentle float trip with a few small rapids as you wind through the Gore Range and Mountain Ranchland on our half day or full day float trip. Looking to add a bit more adventure to your trip? Take a leap off Jump Rock or Little Jump Rock into the waters of the Colorado.
If you are looking for the perfect trip for young children, head to our Kremmling Outpost on the Colorado River; you and the kids won't be disappointed!
Looking for an Experience of a Lifetime?
If you are looking for an experience of a lifetime, then you MUST head to Browns Canyon on the Arkansas River. Browns Canyon recently became a US National Monument and is the most popular whitewater rafting destination in the country. As a habitat to an array of wildlife, keep your eyes peeled for Bighorn Sheep, Peregrine Falcons, Elk and Golden Eagles.
After you have made the decision to raft Browns Canyon, you should decide how long you would like to spend on the water. If you are looking for a half day trip, our Browns Canyon Half Day trip will take you through 10 miles of the national monument. If you want a little bit more time on the water, our Browns Canyon Express is a 16 mile trip. Looking to spend a full day on the Ark? Our full day Browns Canyon Sizzler will provide some amazing views, as well as some delicious chicken fajitas enjoyed riverside!
If you're feeling REALLY adventurous, give the 24 Hours in Browns Canyon trip a try. You will raft for a couple hours, then camp riverside after your guide prepares your fajita dinner. In the morning you will set out after a hearty meal and coffee to complete your rafting. What could be better?
Hoping to Stay Close to Denver?

If you are looking to make a day trip and be back to Denver by nightfall, head to our Clear Creek Outpost in Idaho Springs, located just 30 minutes from downtown Denver! Clear Creek has everything from beginner to advanced whitewater rafting. If you are looking for a beginner-intermediate rafting trip, take a paddle on our Clear Creek Gold Rush trip. This 1/3 day rafting trip takes you through eleven Class III rapids and accommodates rafters as young as 6 years old. The Upper Clear Creek will fulfill your adventure needs if you are looking to kick it up a notch. This intermediate+ to advanced rafting trip has a minimum age of 15 years old, and rafters should be in good physical condition. If you're ready to go all in, head out on our Lower Canyon Advanced+ trip. You'll experience some impressive drops and non-stop rapids as you raft through Clear Creek on the Lower Canyon trip.
Are You an Experienced Rafter?

If you are an experienced rafter looking for your next big thrill, AVA has you covered. Our Advanced+ trips require a minimum age of 15 and good physical fitness from all rafters. Head to our Kremmling Outpost to experience Colorado's most advanced whitewater rafting on our Gore Canyon Rafting trip. This trip requires a practice swim through a Class III rapid, a flip drill and the ability to get back on the boat by yourself. The window to participate on this trip is small; Gore Canyon only runs for a few weeks in August or September. For more information, give our trip specialists a call at 877-RAFTING.
Other advanced+ trips include the Gauntlet, 3 Day Mild to Wild, the Numbers Wyldride and Pine Creek on the Arkansas River, and the Lower Canyon and Phoenix on Clear Creek.
Looking for an Overnight Trip?
If you are looking to spend an evening or so under the stars after a day of rafting, head to our Kremmling Outpost on the Colorado River or our Granite Outpost on the Arkansas River. The Colorado River is home to the 24 Hours on the Upper Colorado and 3 Day Upper Colorado River Float trips, offering Class I – III level rafting. The Arkansas River offers a bit more variety, with the Class III 24 Hours in Browns Canyon, the Class III-V 2 Day Advanced and 3 Day Mild to Wild trips.
Other parameters to keep in mind are if you want to go ziplining or if you would like to add a stay in a cabin or campground. AVA offers zipline tours out of our Granite and Idaho Springs locations. Camping and cabins are available at the Granite outpost. For more information, reservations or help finding your perfect trip, give our trip specialists a call at 877-RAFTING (877-723-8464).